Spotlight
In The Spotlight: Pamposh Dhar, Founder Of The Terataii Wellness Centre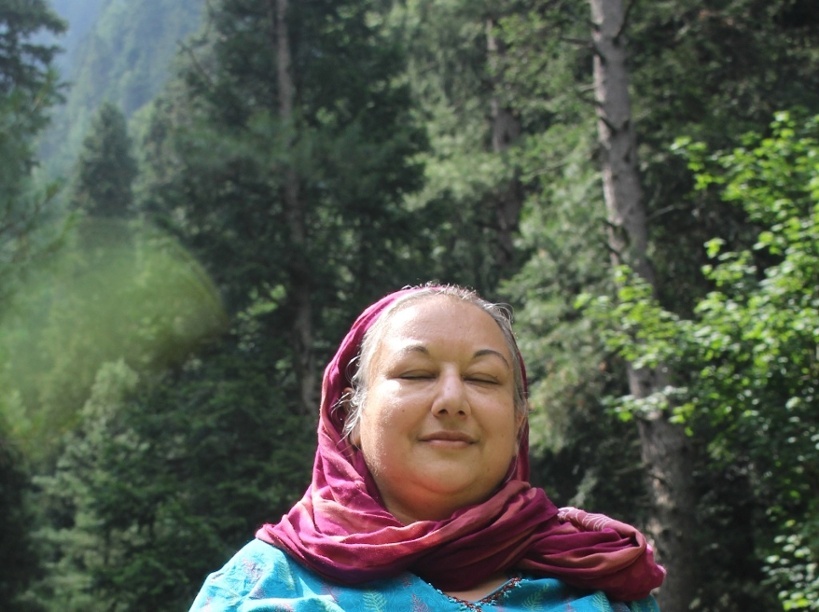 She has long loved writing, and her lifestyle of meditation and healing speak for themselves as her brand. Pamposh Dhar has successfully made the pilgrimage from full-time job to dream calling, and has grown exponentially along the way. Her insight and wisdom in this spotlight interview are, without a doubt, sure to inspire and motivate you in your own journey.
---
Without further ado, Reiki teacher, counsellor to adults and children, and light of peace, Pamposh Dhar.
Tell us about you and your business/career, and what you were doing before?

There are two distinct strands in my work life, and I am passionate about both. My first love was writing – something I have enjoyed doing from a very young age. The second love, which was perhaps even more of a calling, came to me much later in life. This is healing, counselling, coaching, teaching – it all comes together for me. Through this part of my work, I try to help people heal from old and new hurts, improve their physical health and their mental well-being and, at the same time, continue to grow as human beings. Working with children and adults, I counsel and coach, do Reiki healing for physical and emotional well-being, and teach meditation and Reiki.
Teaching children to meditate and do Reiki brings me extra-special joy!
I write about my work and issues related to good mental and physical health. I write about spiritual development, too. And sometimes I go back to my journalistic roots and write something political.
I started work many, many years ago as a journalist in India, moving later to Kuala Lumpur, Hong Kong, and Jakarta. Along the way, I have also worked for two international development organizations: the World Food Programme and the Asian Development Bank.
Transitioning From A Full-Time Job To Passion Work
I found my calling as a healer, counsellor and teacher in 2007. At the time, I was working as a public communication specialist for the Asian Development Bank, based in Manila. The urge to heal and teach was too strong to be denied, so I started a weekend practice from home. I found myself waiting for the weekends, when I always had back-to-back appointments for counselling and Reiki healing. Soon, I added Reiki and meditation workshops to my weekend work.
A year later, I resigned from ADB to focus fulltime on the work I really wanted to do. While I was considering the switch in careers and the expected drastic drop in income, a friend gave me some excellent advice: if you earn less, reduce your expenses too, and then you will not be short of money!
The satisfaction of doing what you are truly passionate about cannot be weighed in the scales against the income from work you are no longer passionate about. When it's time to move on, it's time to move on. That's all there is to it.
Still, if you can create a safety net for yourself, by all means do so. I did. I continued to work for ADB as a consultant to make a little more money. When I moved to Singapore in 2010, I registered my company, Terataii, and continued to consult occasionally as a communication specialist. Eventually, I found I had no time for the consultancies and I now focus all of my energies on the work I live for.
I still write, of course, because that remains my first love – on Reiki, meditation, and whatever else moves me.
Finding Balance Between Income And Your Dream's Satisfaction
I live for my work and it brings me immense joy. Sometimes, I wake up in the night with an idea for a workshop or course I am teaching, or still only planning. I jot down these ideas on my phone, sometimes at 3 or 4am. Once I have done that, I happily go back to sleep!

It has taken quite a while for my new career to start bringing me some money. One thing I have learnt along the way is that you need to invest money to be able to earn money. You need to invest money in setting up your business in the best possible way and also in getting the word out about what you do. It is not enough to do great work; you also have to find a way to let people know that they can benefit from this work. If, like me, you don't have great marketing skills, learn from others, accept the support of other entrepreneurs, and – perhaps most of all – outsource! One person can be good at several things, but not at everything. Get help setting up a good website, creating an attractive logo, writing articles or information flyers – whatever you need and cannot easily do yourself.
My "safety net" made it easier for me to accept the lack of income from the new business, but at some point I realized I had to choose between the greater income from my consultancy work and the much greater satisfaction of doing what I love to do. It is not necessarily an either-or situation; I would say it is really about finding the right balance between income and satisfaction.
Making Your Lifestyle Your Brand
One challenge I face is that healing, meditation and counselling are all quite personal. People have to feel that you are the right person to help them move forward. This means they have to connect with you in some way. You can do a whole lot of marketing, but, in the end, a more personal connection works best. To some extent, my best marketing is through word of mouth. However, many counselling clients, for example, do not necessarily want to talk about the fact that they have been to a counsellor. This is especially true here in Asia.
One way I have tried to meet this challenge is by trying to infuse my own energy into my public sites, including my website and my public Facebook page. Although I engaged a website designer to create my site, I insisted on giving it a look and feel that I think reflects my own personality and my own approach to life. I was very involved in the process. I chose my favourite quote and a visual that appealed to me for the home page, and I wrote all of the text content on the website.
In my information flyers, I use photos of myself meditating or doing Reiki. When I first tried this, I felt like a bit of a megalomaniac! But then a Reiki student told me she had come across a picture of me meditating and said to herself: I want whatever she has! Since then, several clients have told me either that they connected with my photograph or that, of all the websites they looked at, they liked the feel of mine best.
Living In The Moment
One secret to living a happy life, I feel, is to understand that you can only really live in the present. You can't go back and fix the past; you can't go forward and change the future. You can make amends for the past or plan for the future – but you can do that only in the present. So I say: Your only point of power is in the present moment, because that's the only place you can take action.
There's another quote I live by, but it's not my own, it's from Shakespeare: "This above all: to thine own self be true."
Give us a one-line pitch for whatever you are promoting right now.
I am very much a multi-tasker, so I focus on all parts of my work, including meditation, Reiki and counselling. But just at the moment, I am particularly interested in working with children. I have recently started teaching Reiki to children and have had wonderful feedback so far. I have been teaching mindfulness/meditation to children for some time.
I am now offering a mindfulness program for children in four sessions, introducing them to easy and effective mindfulness meditation techniques and teaching them to make conscious choices. I teach one-on-one or in small groups of two to four children. Often I teach siblings together, or a group of friends. Dates can be worked out in consultation with the children and their parents. I am very excited about this program, which can bring an early awareness of the many benefits of meditation, as well as of living mindfully.
You can learn more about this program on my website: http://terataii.com.sg/news.php
Edited by Nedda Chaplin